Chevrolet Corvette Dayton OH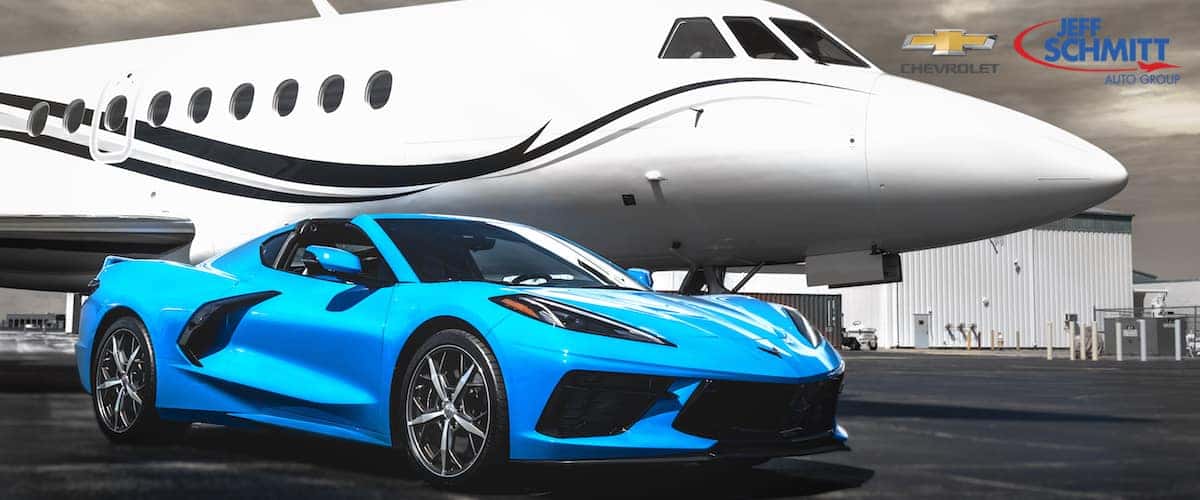 Jeff Schmitt Chevrolet East
Get Race Ready in The New Chevrolet Corvette
The open road becomes your personal race track in the thrilling new Chevrolet Corvette. Get behind the wheel at Jeff Schmitt Chevrolet East today.
The newest Chevrolet Corvette was made to move around the track with apt skill and precision. Harness the horses and let it run wild as you turn heads all over town. All that legendary style and performance await you right here at Jeff Schmitt Chevrolet East.
Corvette Stingray
The classic Corvette, the Stingray invites you to get your daily allowance of excitement and adrenaline with an available 460 horsepower V8 engine; as well as 465lb.-ft. of maximum torque. Grip the wheel and engage the accelerator to go from 0-60mph in a mere 3.7 seconds. If that sounds fast to you, you'll be even more surprised when you get in the driver's seat and experience it for yourself. If it's the Stingray you're looking for, we have the perfect model for you.
Corvette Grand Sport
The power and performance of the Stingray are upgraded in the sleeker, faster and even better looking Corvette Grand Sport. The available power that is found in the Stingray comes standard with this beast; as well as a slightly faster 0-60mph time. The Grand Sport embodies many of the cutting-edge aerodynamic features found in the Z06 model. This gives you the ability to feel closer to the road than you ever thought possible. If you like the classic Stingray, you'll go bananas for the ultra-thrilling Corvette Z06. Check it out with the performance pros at Jeff Schmitt Chevrolet East.
Corvette Z06
The pinnacle of incredible Corvette performance, the Chevrolet Corvette Z06 is among the greatest supercars in the world. This is the sports car that they never saw coming; probably because it's hard to spot this speed demon. The Chevrolet Corvette Z06 has a supercharged 6.2-liter V8 engine putting out an astounding 650hp and 650lb.-ft. of max torque. You'll blow the doors off of everything around you when you're flying from 0-60 in UNDER 3 SECONDS! Yeah, we can't believe it, either. Our suggestion is to let us put you behind the wheel so that you can get a feel for this amazing machine firsthand.
Jeff Schmitt Chevrolet East – Your Chevy Performance Headquarters.
There's nothing else like the speed, style and smooth handling of the legendary Chevrolet Corvette. The question is, which Corvette is the right one for you? All you have to do to find out is to visit the Jeff Schmitt Chevrolet East team and let us give you a proper introduction. You're going to love this amazing thrill ride.
Questions? Please speak with our trade advisor for more information.
Why Jeff Schmitt Chevrolet East?
We believe in taking care of our valued customers with honesty, integrity and an absolutely amazing selection of new and pre-owned vehicles. We'll work to earn your business the right way – not with flashy gimmicks, but by putting your needs first every time.
For years now, we've been the Miami Valley's leader in Chevrolet sales, service, and selection. That's because we're driven – not by money or profits, but by your absolute satisfaction. If you take the time to make Jeff Schmitt Chevrolet East your first visit, we'll give you all the reasons you need to make us your last visit as well. From the moment you arrive, we'll have your back, and not just because that puts us closer to your wallet, either. We want to show you that it really is possible to find a car dealer you can count on for all your automotive needs. We'll be there to guide you to the perfect vehicle and financing options; and we'll continue to be there to care for your vehicle, keeping you worry-free all the while. Come and see just what the Jeff Schmitt Advantage can do for you. We promise you won't regret it.
Your new Chevrolet vehicle has so much to offer you, both inside and out. At Jeff Schmitt Chevrolet East, we look forward to helping you discover each dynamic feature. From the comfort of our local showroom near Dayton, OH, we will show you why our dedicated team and the Jeff Schmitt Advantage are the perfect fit for you and your needs. Browse our website and check out our incredible selection of New Chevrolet Models, our incredible specials, online incentives, and even start your financing process right from your home or office. Contact us with any questions you may have or to schedule your visit by email, live chat or by phone at 937-458-3155. Then come into our conveniently located showroom to experience our hassle-free, value-driven approach and fantastic selection for yourself. We're here to put you in the driver's seat and in control of every mile.